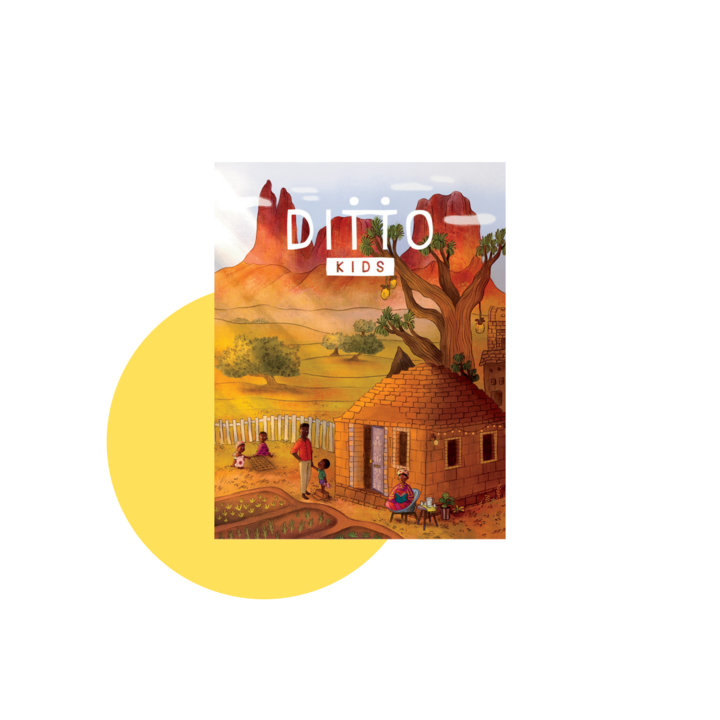 Ditto Kids, Issue Two: Cooperation
An anti-racist magazine for children 3-12 and the grown-ups who love them.
Our mission is simple -- to help you as a parent, educator or caregiver guide your child as they journey towards being actively anti-racist.
We use decolonized history and culture interwoven with our anti-bias educational goals to help you guide your child in a developmentally appropriate way. 
Ditto Kids magazine is published twice a year and includes activities, conversation prompts, and worksheets to help your child explore anti-bias and anti-racism in a concrete and accessible way.  
Issue Two:

We feel so privileged to have Baba Wagué Diakité join us as our guest editor along with the amazingly talented illustrators and activity creators who worked with us to bring this issue to life.

Issue two will explore the culture and history of Mali. The value of cooperation will ground us as we learn from the past and look forward to how we can build a brighter, more sustainable future together.
 Check out all Ditto Kids issues!
Who is this resource for?
This magazine is for parents, homeschoolers, classroom teachers-- anyone who teaches and loves children between the ages of about 3 and 11. It is written specifically for the unique perspective of those living in the United States but can be modified for those living in other countries. 
How should I use this magazine?
We envision this guide as a springboard for parents, homeschooling families, and classroom teachers to use to educate themselves and the children they care for in anti-bias principles: self-love, love for others, the ability to recognize inequality, the tools to address it in ourselves, the tools to address it around us and continuing education.
Continuing education is such a big piece of the puzzle! When it comes to educating our children and ourselves to be firmly against unfair bias towards ourselves and others, a regular discussion is critical. How many times have you told your kids to brush their teeth? Everyone-- grown-ups and kids--needs repetition and practice to learn. A degree of repetition is built into this guide to help facilitate this, but this is a life-long learning principle!
What is the goal of this magazine?
The first goal is to inspire you as the caregiver, to create meaningful change in ourselves as adults and caregivers by challenging and developing the way we view ourselves and others. Then, to develop the way we see ourselves as a people who can create and sustain an ability to change for the better throughout our lives. When we develop that in ourselves, our ability to teach and share these values and habits with the children in our lives will be tenfold.
There is a short parent section in the back. Please read this section first and then independent of your child read the magazine. Your preparation is key! While we do not make adult education our focus, there are a number of wonderful anti-bias/anti-racism (ABAR) educators who do. 
The second goal is to with love and intention, pass this gift on to the children in our lives on their journey to becoming actively anti-racist. We firmly believe that these kiddos are the generation to make and sustain change- we just need to give them the tools!
Size chart
We carry clothing for baby and children, ranging from 0-12 years. Just as each kid is unique, each brand runs a bit differently so we wanted to give you size guidelines for each brand. You will also see size and fit listed in each description within a product. Not all of the brands we carry go up to 12 years of age and so not every piece on our site is available in those larger sizes. Currently, Gray Label goes up to 12Y and Winter Water Factory goes to 10Y. Thimble will have some styles in 8Y. Please feel free to contact us if we can help you further. 
Size Guides by Brand
We currently ship in the USA only using United States Postal Service from Milwaukee, Wisconsin. UPS Ground is used for larger items. 
We send all orders via trackable mail or courier. Once the order has been scanned and delivered by the courier it will be considered the sole responsibility and property of the customer. If you'd like to make sure the package requires your signature for delivery, please email us at the time of your order.
USA
FREE Curbside or In-Store Pick Up - your order is usually ready within one hour and we will email you when it's ready for pickup. Pick up during operating hours.  
FREE Shipping in The US on Orders of $150+ (2-5 Business Days with Tracking) 
$6.00 Small Parcel - First-Class Shipping (3-5 Business Days with Tracking) 
$11.00 Standard Parcel - Priority Shipping (2-3 Business Days with Tracking and Insurance)
$30.00 Priority Express Shipping (Guaranteed 1-Day or 2-Day expedited service by 3 p.m. with $100 of insurance coverage.)
LARGE AND OVERSIZE 
If you order an item that is marked as a large or oversize item, a delivery surcharge will apply. These items are final sale and can only be shipped in the USA. These items will be delivered UPS Ground (3-5 business days) and have a delivery surcharge of $20.00 Large and $36.00 Oversize.