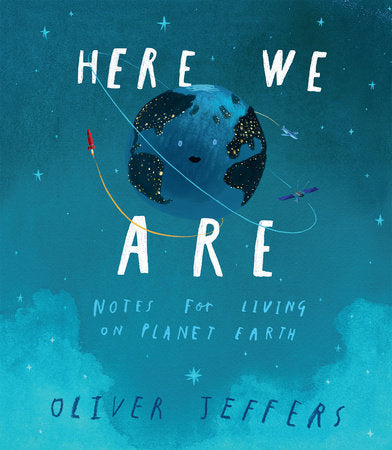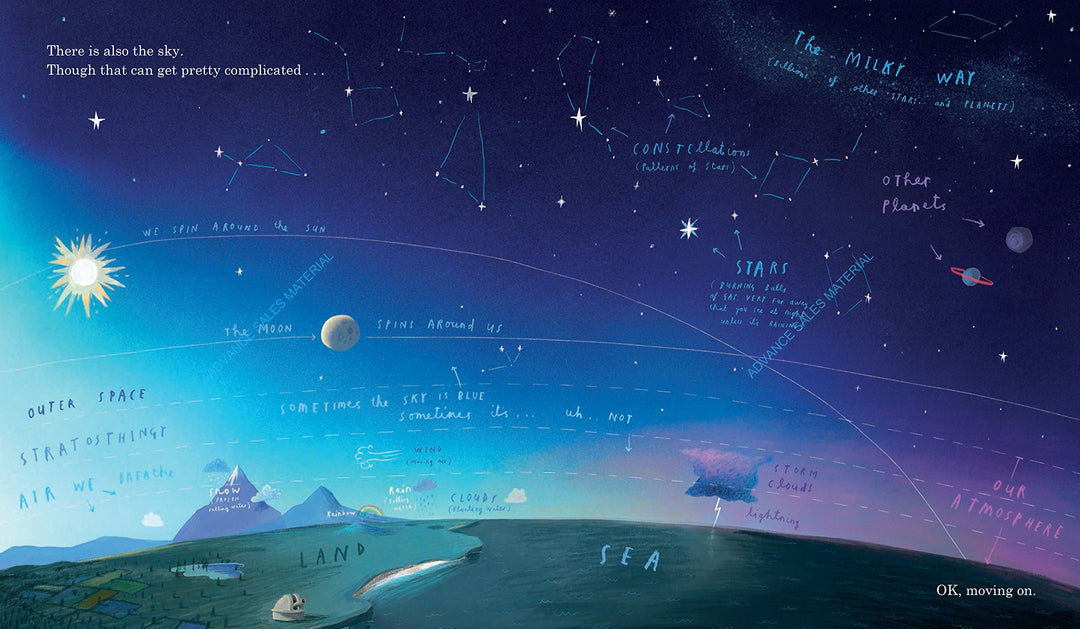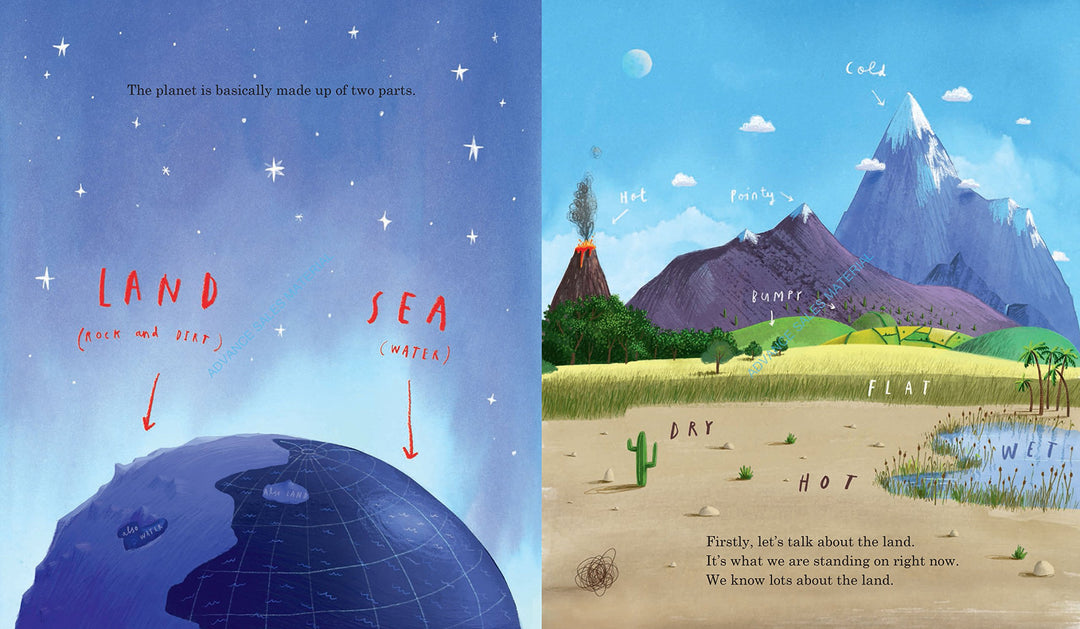 Here We Are, Notes for Living on Planet Earth
#1 New York Times bestseller
A TIME Magazine Best Book of the Year
A NPR Best Book of 2017
A Boston Globe Best Book of 2017

"Moments of human intimacy jostle with scenes that inspire cosmic awe, and the broad diversity of Jeffers's candy-colored humans...underscores the twin messages that 'You're never alone on Earth' and that we're all in this together."--Publisher's Weekly (starred review)

"A true work of art."--BuzzFeed

Oliver Jeffers, arguably the most influential creator of picture books today, offers a rare personal look inside his own hopes and wishes for his child--and in doing so gifts children and parents everywhere with a gently sweet and humorous missive about our world and those who call it home.

Insightfully sweet, with a gentle humor and poignancy, here is Oliver Jeffers' user's guide to life on Earth. He created it specially for his son, yet with a universality that embraces all children and their parents. Be it a complex view of our planet's terrain (bumpy, sharp, wet), a deep look at our place in space (it's big), or a guide to all of humanity (don't be fooled, we are all people), Oliver's signature wit and humor combine with a value system of kindness and tolerance to create a must-have book for parents.

For Ages 3 - 7 Years. Pre School - 2nd Grade.
48 Pages.
Praise for Here We Are:

-"A sweet and tender distillation of what every Earthling needs to know and might well spend a lifetime striving to achieve. A must-purchase for new parent shelves"--School Library Journal

-"From the skies to the animal kingdom to the people of the world and lots of other beautifully rendered examples of life on Earth, Here We Are carries a simple message: Be kind." --NPR

-"[An] enchanting gem of a children's book"--NBC's Today Show

-"A must-have book for parents."--Gambit

-"A celebration of people all shapes and sizes, and of the beauty and mystery of our Earth."--Booklist

-"...a beautifully illustrated guide to living on Earth and being a good person."--Brightly

-[Here We Are] is a tour through the land, the sea, the sky, our bodies; dioramas of our wild diversity....[Jeffers] is the master of capturing the joy in our differences."--New York Times Book Review

Size chart
We carry clothing for baby and children, ranging from 0-12 years. Just as each kid is unique, each brand runs a bit differently so we wanted to give you size guidelines for each brand. You will also see size and fit listed in each description within a product. Not all of the brands we carry go up to 12 years of age and so not every piece on our site is available in those larger sizes. Currently, Gray Label goes up to 12Y and Winter Water Factory goes to 10Y. Thimble will have some styles in 8Y. Please feel free to contact us if we can help you further. 
Size Guides by Brand
We currently ship in the USA only using United States Postal Service from Milwaukee, Wisconsin. UPS Ground is used for larger items. 
We send all orders via trackable mail or courier. Once the order has been scanned and delivered by the courier it will be considered the sole responsibility and property of the customer. If you'd like to make sure the package requires your signature for delivery, please email us at the time of your order.
USA
FREE Curbside or In-Store Pick Up - your order is usually ready within one hour and we will email you when it's ready for pickup. Pick up during operating hours.  
FREE Shipping in The US on Orders of $150+ (2-5 Business Days with Tracking) 
$6.00 Small Parcel - First-Class Shipping (3-5 Business Days with Tracking) 
$11.00 Standard Parcel - Priority Shipping (2-3 Business Days with Tracking and Insurance)
$30.00 Priority Express Shipping (Guaranteed 1-Day or 2-Day expedited service by 3 p.m. with $100 of insurance coverage.)
LARGE AND OVERSIZE 
If you order an item that is marked as a large or oversize item, a delivery surcharge will apply. These items are final sale and can only be shipped in the USA. These items will be delivered UPS Ground (3-5 business days) and have a delivery surcharge of $20.00 Large and $36.00 Oversize.